Gaza: MSF delivers medical supplies to support civilians
On Sunday, 29 October, Doctors Without Borders (MSF) sent 26 tonnes of medical supplies on a World Health Organisation plane to Egypt, under the coordination of the Egyptian Red Crescent, to support the emergency medical response in Gaza. The medical supplies can cover the needs for 800 surgical interventions and are destined for healthcare facilities in Gaza in collaboration with the local health authorities. MSF has long-standing partnerships with various hospitals in the Strip.
​
​We need this delivery to happen as soon as possible, as healthcare facilities in Gaza are overwhelmed with patients and are running very low on medical supplies following more than three weeks of complete siege by the Israeli forces. We reiterate our call for an urgent ceasefire in Gaza to prevent more deaths and allow for the delivery of desperately needed humanitarian aid.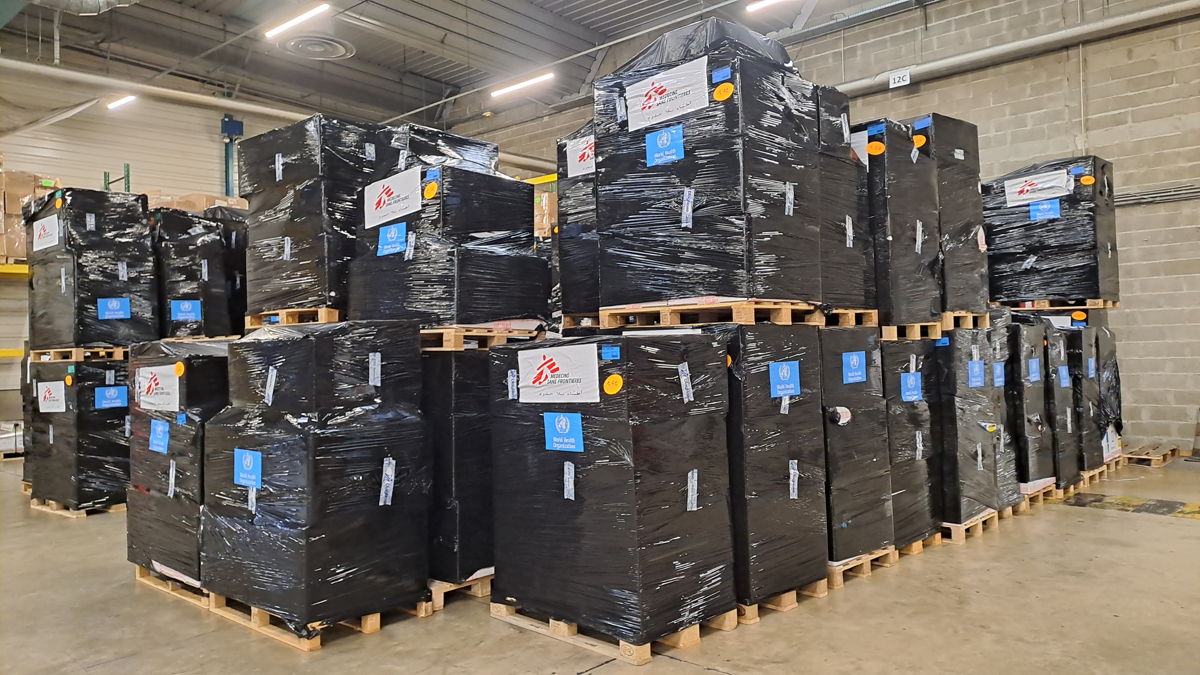 ---
Gaza: Immediate ceasefire is needed to stop the bloodshed
Doctors Without Borders (MSF) calls for an immediate ceasefire to prevent more deaths in Gaza and allow desperately needed humanitarian supplies in. Since Friday 27 October, the bombing by the Israeli forces has intensified to a degree not seen until now: northern Gaza is being razed to the ground, while the whole Strip is being hit and civilians have no place to take shelter.
msf-sa-press.prezly.com
---
About Doctors Without Borders (MSF)
Doctors Without Borders (MSF) is a global network of principled medical and other professionals who specialise in medical humanitarian work, driven by our common humanity and guided by medical ethics. We strive to bring emergency medical care to people caught in conflicts, crises, and disasters in more than 70 countries worldwide.
In South Africa, the organisation is recognised as one of the pioneers of providing Antiretroviral Treatment (ART) in the public sector and started the first HIV programmes in South Africa in 1999. Until today, the focus of MSF's interventions in the country has primarily been on developing new testing and treatment strategies for HIV/AIDS and TB in Eshowe (Kwa-Zulu Natal) and Khayelitsha (Western Cape).
In Tshwane, we run a migration project, and we offer medical and psychosocial care to migrants, refugees, and asylum seekers who struggle to access public health services under South Africa's increasingly restrictive.
Previously, we offered free, high-quality, confidential medical care to survivors of SGBV in Rustenburg.
To learn more about our work in South Africa, please visit this page on our website (www.msf.org.za). To support MSF's work:
SMS "JOIN" to 42110 to donate R30 Once-off

Visit https://www.msf.org.za/donate

Seipati Moloi Communications Specialist, Doctors Without Borders (MSF)