Gaza: Immediate ceasefire is needed to stop the bloodshed
Doctors Without Borders (MSF) calls for an immediate ceasefire to prevent more deaths in Gaza and allow desperately needed humanitarian supplies in. Since Friday 27 October, the bombing by the Israeli forces has intensified to a degree not seen until now: northern Gaza is being razed to the ground, while the whole Strip is being hit and civilians have no place to take shelter.
The actions of world leaders are too weak, too slow, as a non-binding UN resolution for a ceasefire has done nothing to reign in the indiscriminate violence unleashed on a helpless people. The international community must take stronger action to urge Israel to stop the bloodshed. People are being killed and forcibly displaced from their homes, and water and fuel are running low. The atrocity is on a scale never seen before in Gaza.
Hospitals are running out of medical supplies. Earlier this week, Dr Mohammed Obeid, our surgeon in Gaza described the following, "Hospitals are flooded with patients, amputations and surgeries are being carried out without proper anesthesia, and morgues are flooded with dead bodies". Without proper burials and clearance of dead bodies from the rubble, outbreaks of disease will pose an additional threat to the people of the Gaza Strip.
The total communications blackout on 27 October further limits the ability to coordinate and provide humanitarian and medical assistance. People under the rubble, pregnant women who are about to deliver, and the elderly are not able to seek help when they need it the most. Because of the blackout, MSF has lost contact with most of its Palestinian staff.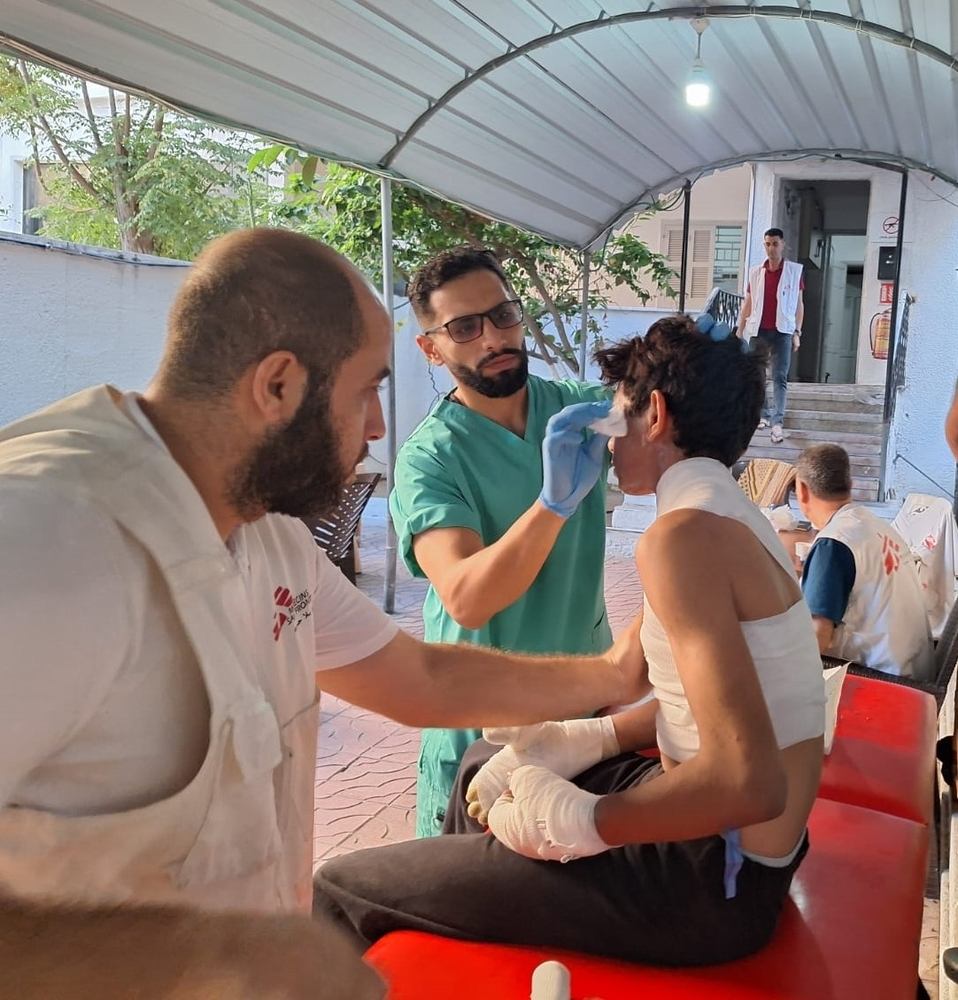 Across Gaza, the number of injured in need of urgent medical assistance far exceeds the capacity of the health system, which currently has around 3,500 beds. So many victims in such a short space of time is unheard of, even compared with previous large-scale Israeli offensives.
Hospitals such as Al Shifa in Gaza City, where MSF Palestinian colleagues continue to work, are overwhelmed with patients. Israeli military orders to evacuate the hospital are impossible and dangerous. The hospital is currently at full capacity with patients seeking medical treatment, and tens of thousands of others seeking safe shelter. Under international humanitarian law, patients, health workers and facilities must be protected at all times.
"Helpless people are being subjected to horrific bombing. Families have nowhere to run or to hide, as hell is unleashed on them. We need a ceasefire now," says Dr Christos Christou, MSF International President. "Water, food, fuel, medical supplies and humanitarian aid in Gaza need to be urgently restored."
Millions of men, women and children are facing an inhuman siege; a collective punishment that is prohibited under international humanitarian law.
Israeli authorities continue to prevent the entry of fuel into Gaza, which is essential for powering hospitals as well as the desalination plants that produce clean drinking water. On Friday evening, the death toll already stood at over 7,300 according to the local health authorities, with approximately 19,000 injured, and it may have become a lot worse after the most intense night of bombing since the start of the war. The siege will compound the deaths caused by the strikes, as medics will be forced to decide who to treat or not, and people are left without food, water or medicines.
Prior to 7 October, between 300 and 500 supply trucks crossed into Gaza every day, where most people were dependent on humanitarian aid. Today, despite the Rafah border crossing being open, only 84 trucks have entered since 20 October. A vastly inadequate response to the constant and growing needs in Gaza.
Those who want to seek safety across the border should be allowed to do so without prejudice to their right to return to Gaza. Our international staff who worked in Gaza before the war are now in the south and are no longer able to coordinate humanitarian activities. They must also be allowed to leave to Egypt. ​
Some of MSF's 300 Palestinian staff have also moved to south Gaza to find shelter from the bombing for their families. Many other Palestinian colleagues continue to work and provide lifesaving care in hospitals and across the Gaza Strip, while the most basic protections for hospitals and medical personnel are not guaranteed.
"We are ready to increase our aid capacity in Gaza. We have teams on standby ready to send medical supplies and to enter Gaza to support the emergency medical response, as soon as the situation allows it," says Dr. Christou. "But as long as the bombing continues with the current intensity, any effort to increase medical aid will inevitably fall short."
---
About Doctors Without Borders (MSF)
Doctors Without Borders (MSF) is a global network of principled medical and other professionals who specialise in medical humanitarian work, driven by our common humanity and guided by medical ethics. We strive to bring emergency medical care to people caught in conflicts, crises, and disasters in more than 70 countries worldwide.
In South Africa, the organisation is recognised as one of the pioneers of providing Antiretroviral Treatment (ART) in the public sector and started the first HIV programmes in South Africa in 1999. Until today, the focus of MSF's interventions in the country has primarily been on developing new testing and treatment strategies for HIV/AIDS and TB in Eshowe (Kwa-Zulu Natal) and Khayelitsha (Western Cape).
In Tshwane, we run a migration project, and we offer medical and psychosocial care to migrants, refugees, and asylum seekers, who struggle to access public health services under South Africa's increasingly restrictive.
Previously we offered free, high-quality, confidential medical care to survivors of SGBV in Rustenburg.
To learn more about our work in South Africa, please visit this page on our website (www.msf.org.za). To support MSF's work:
SMS "JOIN" to 42110 to donate R30 Once-off

Visit https://www.msf.org.za/donate
---

Seipati Moloi Communications Specialist, Doctors Without Borders (MSF)