Gaza: MSF calls on the Israeli authorities to show humanity
Despite Israeli announcements suggesting that there are safe areas for the population trapped in the Gaza Strip, they are in fact, exposed to bombardment throughout all the territory, including in the south, where tens of thousands of people have fled following the ultimatum.
As the Israeli army has been bombarding the Gaza Strip without restraint for a week, we are calling for the most elementary humanity to be shown.
The injunction to nearly 1.1 million people to move in a few hours to an already overpopulated territory with precarious access to food, water, and healthcare is as absurd as it is intolerable. Our teams are witnessing the fact that drinking water is becoming scarce in the south of the Gaza Strip, and the difficulty of obtaining it is adding to the distress of the population. ​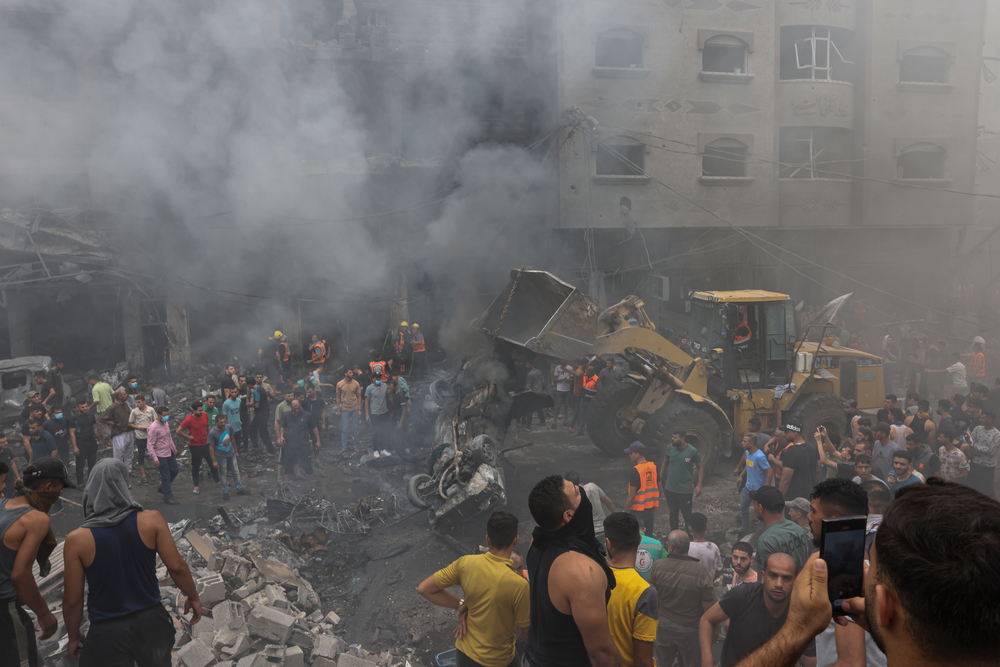 Doctors Without Borders (MSF) urgently calls for the restoration of sufficient and immediate access to drinking water for the population of the Gaza Strip.
A humanitarian corridor of a few hours decreed today by the Israeli authorities in the north of Gaza has just expired. We are extremely worried about the fate of those who will not be able to move, such as the wounded, the sick and the medical staff, who we fear will be wiped out in view of the statements made by the Israeli military authorities.
MSF is calling for safe zones to remain in the north and for regular ceasefires.
We are also calling for the possibility to flee through the Rafah crossing for those who wish to do so without prejudice to the right to return. MSF has asked for its Palestinian staff who wish to leave to be evacuated.
---
PREVIOUS COMMUNICATION
MSF: Indiscriminate violence and the collective punishment of Gaza must cease
Doctors Without Borders (MSF) is horrified by the brutal mass killing of civilians perpetrated by Hamas and by the massive attacks on Gaza now being pursued by Israel. MSF calls for an immediate cessation of the indiscriminate bloodshed, the establishment of safe spaces and safe passage for people to reach them as a matter of urgency. People must be afforded safe access to essential supplies like food and water, and health facilities. Essential humanitarian supplies like medicine, medical equipment, food, fuel and water must also be allowed to enter the Gaza enclave. To facilitate this, the Rafah border crossing with Egypt must be opened, and bombings on the crossing point must cease.
msf-sa-press.prezly.com
Gaza: "As you can hear, airstrikes are just continuing..."
"The situation is horrific, with massive Israeli and Palestinian casualties. Our Palestinian colleagues are working day and night to cope with the influx of wounded. Following today's bombing in Al Jabalia refugee camp, our team treated more than 50 people in Al Awda hospital." - Matthias Kannes, Doctors Without Borders (MSF) Head of Mission in Gaza
msf-sa-press.prezly.com
---
About Doctors Without Borders (MSF)
Doctors Without Borders (MSF) is a global network of principled medical and other professionals who specialise in medical humanitarian work, driven by our common humanity and guided by medical ethics. We strive to bring emergency medical care to people caught in conflicts, crises, and disasters in more than 70 countries worldwide.
In South Africa, the organisation is recognised as one of the pioneers of providing Antiretroviral Treatment (ART) in the public sector and started the first HIV programmes in South Africa in 1999. Until today, the focus of MSF's interventions in the country has primarily been on developing new testing and treatment strategies for HIV/AIDS and TB in Eshowe (Kwa-Zulu Natal) and Khayelitsha (Western Cape).
In Tshwane, we run a migration project, and we offer medical and psychosocial care to migrants, refugees, and asylum seekers, who struggle to access public health services under South Africa's increasingly restrictive.
Previously we offered free, high-quality, confidential medical care to survivors of SGBV in Rustenburg.
To learn more about our work in South Africa, please visit this page on our website (www.msf.org.za). To support MSF's work:
SMS "JOIN" to 42110 to donate R30 Once-off

Visit https://www.msf.org.za/donate
---

Seipati Moloi Communications Specialist, Doctors Without Borders (MSF)