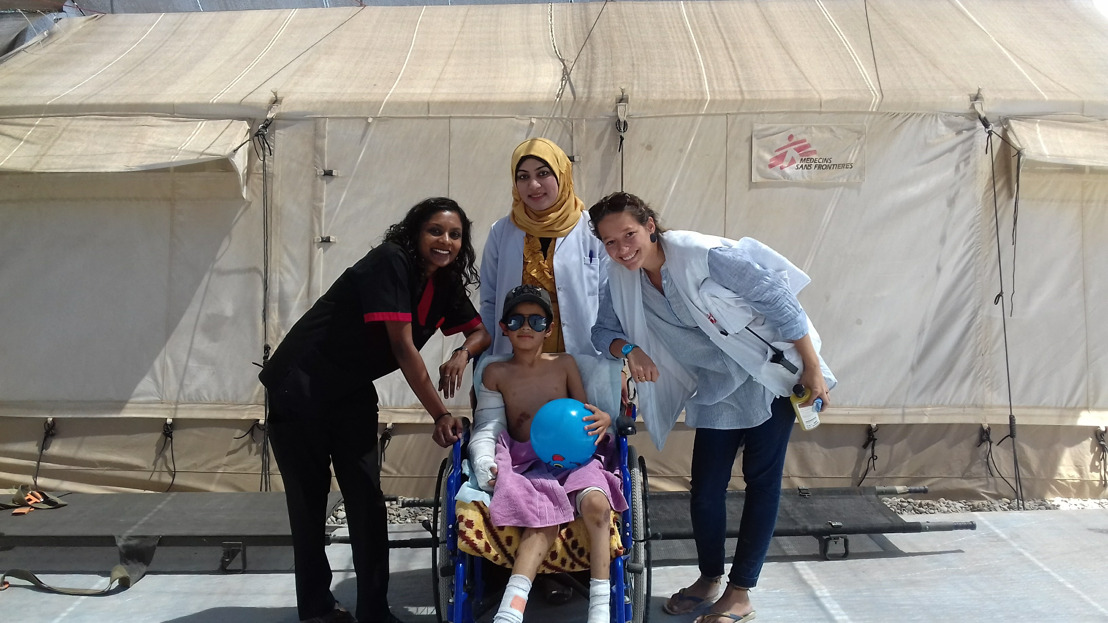 Three WOMEN, Three STORIES and One COUNTRY
For Women's Month, meet three courageous South African fieldworkers for Doctors Without Borders (MSF) who share their experiences after returning from war-torn Mosul, Iraq.
Monday, August 14, 2017 —

SOUTH AFRICA

Doctors Without Borders (MSF) has worked in Iraq since 2003 and since then over 833 MSF staff have helped provide much needed medical assistance. Each MSF Southern Africa fieldworker returning from the country has a unique view of the situation: emergency physician Dr Vanessa Naidoo, HR coordinator Claire Waterhouse and operating theatre nurse Jonine Lotter. All three South African female fieldworkers witnessed the effects of war in Iraq on the most vulnerable people.

For years, Iraq has been at war and millions of civilians continue to be affected by the conflict between the Iraqi government/coalition forces and the Islamic State (IS) group. The fighting in Mosul has resulted in a medical emergency, and the disruption of health services has left millions in need of medical assistance. Since 2014, over 3.3 million people have been displaced across the country.

Throughout 2016, there was constant movement of people – either fleeing from battle zones, or returning to newly retaken areas. Around 190,000 people were displaced from Mosul and the surrounding area in the last three months of the year, and as many as 1.5 million had returned to their place of origin by December.

All these people, living in unstable areas, often near frontlines, face ongoing challenges, including insecurity and a lack of access to basic services and healthcare.

Vanessa Naidoo, emergency doctor| Assignment: Hammam al-Alil, Mosul

"We need to tell the story of Mosul. Coming back to South Africa, I realise how little people here know about how much destruction happened in Mosul; how many people died; and how horrific it was for the civilians caught in this war. Countless people were wounded, starving and trapped in their houses, getting killed in the fighting and explosions, and it is as if no one knows. That's the worst tragedy of it all."

"Thousands of civilians, including children, were injured and killed in Mosul, but it felt like the world turned a blind eye because it was just another battle in the 'fight against terrorism,' and this was the price that we're willing to pay as 'collateral damage.'"

"If something like this happened in a place like America, everyone would know and would care and would pay attention. There's no way so many people could die in the West in six months and no one would say anything about it, or it wouldn't be all over the news. So this isn't 'just another war in the Middle East'. What's happened in Mosul is huge, and I feel it should not happen anywhere in the world again.

"The 'war on terror' will continue, but ignoring or not paying attention to the way it is fought, or how people are impacted, shows a world that accepts that not all civilians need to be protected, that sometimes killing civilians is okay."

Read Vanessa's story here: https://www.msf.org.za/stories-news/fieldworker-stories/dr-vanessa-naidoo-we-need-tell-story-mosul

Jonine Lotter, operating theatre nurse supervisor | Assignment: Hamdaniya and Hammam al-Alil, Mosul

"Due to the security situation, we passed through checkpoints on the way to the hospital every day. I saw many people, a lot of Iraqi families, walking through these checkpoints. The thing that struck me most was that they were walking with everything they have, all their possessions with them. It's hard to think this is all these people have in the world. I remember one day I saw a family – mother and father and children – and the man was carrying his child in one hand, and a bird cage with a bird in another. Just seeing this, thinking he has to carry everything that is valuable to him, it was heart-warming and heart-breaking at the same time."

"There was a child who arrived at our hospital in Hamman al-Alil one day. There was no one with him, he was completely alone, a little 3-4 year old child. People said they had seen him walking in the street alone and so someone took him to the police. He had a wound on his leg so he ended up at our hospital. He didn't speak to us or show any emotions. He just sat in the bed and stared straight ahead, this 3-year-old, all by himself. Then one of the staff members at our hospital posted his picture on this Facebook group where people search for missing relatives, and 2 days later the mother arrived and said she had seen this picture. She said she came to find her child who had been lost. Their house was bombed and everyone fled and this child got lost in the process. For 2 weeks, they didn't know what had happened to him or how he even survived. But this is a story with a happy ending, the child was found at the end."

Claire Waterhouse, human resources coordinator| Assignment: Sulaymaniyah Governorate

"As an HR Coordinator, I mostly worked in an office. But I went to the camps for internally displaced people a couple of times and to the main hospital MSF supported there. The people are amazing. And the things you read in the news are real. You get there and you see: there is the Yazidi section of the camp with people who have gone through intense things with the IS group and managed to flee and get here; then here is the Arab section from Syria, people who chose Iraq over Syria – that's how desperate they were; and then there are the Iraqi IDPs from Mosul. And the number one thing is people want to go home. If you ask them they say: 'I have a house there and I need to see if it's standing, I need to start my shop again, I need to get back there. As soon as it is possible to go, I'm going back'. And it's not just about them being hopeful and optimistic, it's also a practical thing – that their home is Mosul and they want to be home, back with their communities, getting things back to normal again. They want to get their lives back on track."

"People are so resilient. It' amazing to think you can go through that kind of stuff and still come out thinking 'I want to rebuild'. The Syrians, for example, have already been living in the camps for like 3-4 years, with no end of the war in sight. So the things you read about refugees in certain media, the anti-refugee sentiment, it's so far off from what's really happening. You just have to visit one of these camps to see it. People don't want to leave their country by choice. MSF's national staff there are skilled and had full lives before the war – two of my assistants were oil engineers until the war came. Now they work for MSF as admin assistants. Our head of psychosocial support in the camp has been a trained psychologist for about 15 years; some staff are engineers and scientists who have nothing now and just live in these small tents in the IDP camps. They are all wonderfully resilient, smart and educated people who want to do better. But because of the war, they just can't.
Seipati Moloi Media Liaison Co-ordinator, Doctors Without Borders (MSF)
Angela Makamure Press Officer, Doctors Without Borders (MSF) Southern Africa