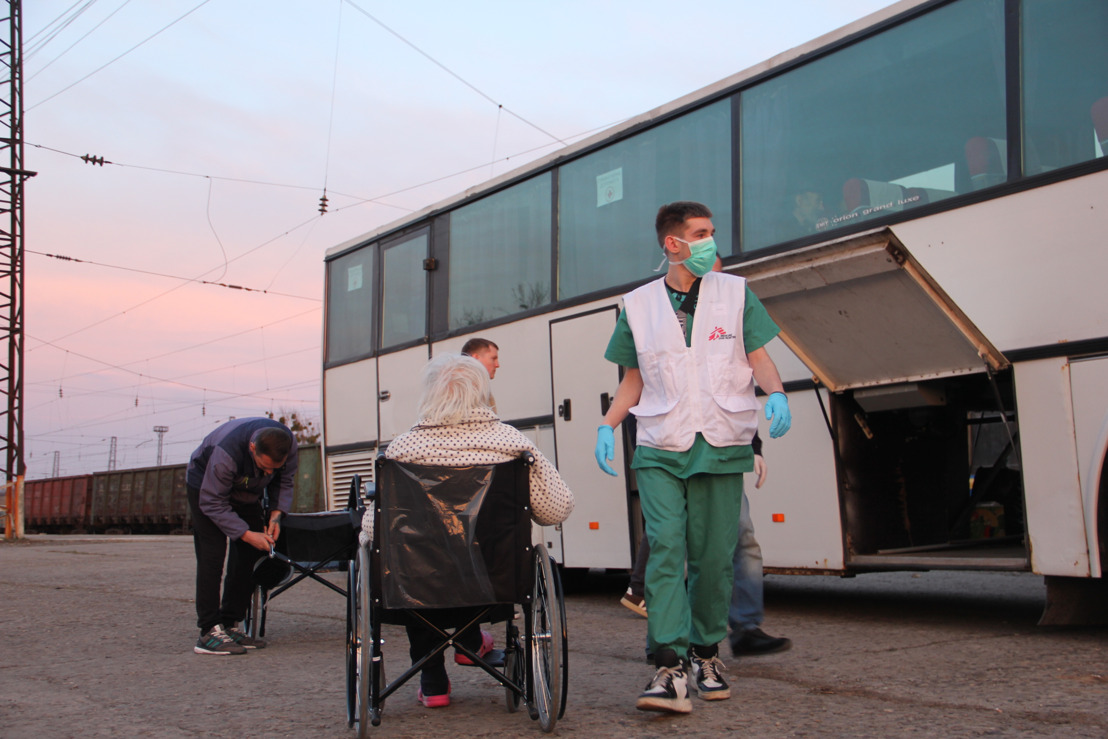 UKRAINE: CARING FOR VULNERABLE PEOPLE LEFT BEHIND IN THE CONFLICT
Dr Natalie Roberts
My first impression of the Kyiv region was that of an exodus. In early March, as we headed west towards the capital, long lines of cars were going in the opposite direction. Most of them had the word "children" written on the windscreen, to protect them from Russian army fire. Each one was filled with people, belongings and pets. If not for the air-raid sirens, the checkpoints and the snow, one might have thought they were families on their way to holiday destinations.
I soon realised that these people were the lucky ones. Young people, women and children and people with access to a car and money who were able to travel to western Ukraine and neighbouring countries, while the elderly, the disabled, the psychiatrically ill and the chronically ill could not leave. That is why in areas occupied by Russian forces such as Makariv, Borodianka, Irpin and Bucha, there remained a significant number of inhabitants.
The world was shocked to see the images of civilians massacred in the streets of Bucha. Those who survived it now need our full attention. For a month, it was impossible for anyone to enter these areas and it was difficult to leave. Older people living alone, the infirm and disabled simply did not have the opportunity to flee.
Some people took refuge in basements, but others were not mobile enough to leave their flats. Everyone was trapped in a situation of extreme violence. Those who ventured outside risked being shot at by a Russian soldier or tank. Electricity, gas and water supplies were cut off. Hospitals and health facilities were damaged or destroyed and staff fled, cutting off access to healthcare. Hypothermia, stress and lack of access to treatment for chronic diseases led to an increase in heart attacks or strokes. Many health workers suspect that death rates related to these diseases among this particularly vulnerable group of people are higher than those directly related to violence.
In areas that are back under Ukrainian control, such as Makariv, Borodianka and the surrounding villages in the Fastiv region, MSF teams have begun to support local doctors and authorities in providing medical care by stabilising patients before transferring them to the Fastiv hospital. We are also helping the hospital to cope with increased demands by donating medicines and equipment and providing the services of a physiotherapist and psychologist. We plan to extend these activities to areas further north of Kyiv and to Chernihiv, where access is now possible.
To the south of Kyiv, in Bila Tserkva, Hrebinky and Ksaverivka, many people have fled, fearing a rapid advance by Russian troops. Once again, the most vulnerable people, like the elderly and the sick, have had to remain. Hospitals and health facilities were ordered to stop all non-emergency care in preparation for the wounded. Access to healthcare, including primary care, has become extremely difficult. Pharmacies have closed or no longer have basic medicines in stock. The sale of alcohol has been banned and alcoholics have begun to suffer from acute withdrawal, a situation that can lead to death. Social workers, lacking access to fuel, have resorted to using bicycles, but frequent curfews, movement restrictions and checkpoints prevent them from reaching people as often as they need to. Social workers pointed out the paradox that while functional hospitals are empty and waiting for the injured, the sick are condemned to stay at home.
Some people have remained in these areas because of chronic illness, like kidney failure or cancer, which makes them dependent on dialysis or chemotherapy. Without assurances that they will be able to access these services if they flee to the west of the country or abroad, they are trapped, and their relatives are often trapped with them. The director of Nezabutni, a Ukrainian foundation that helps people with dementia and their carers, told me that even in heavily bombed areas, families of people with mental health problems chose not to take cover when the alarms sounded, as the experience was simply too traumatic for the most fragile.
During my time in Ukraine, I was impressed by the solidarity shown by carers who refused to abandon these people. Time and again I heard people explain that they could have left but were staying to help the most vulnerable. Social workers, often middle-aged women with families of their own, were working 24/7 to try to identify and reach people stuck at home. Volunteer networks were trying to source medicines in pharmacies and deliver them to the homes of the stranded, along with food and other essential goods. Staff in old people's homes stayed on duty, even though they were terrified that the front lines were closing in.
The mayor and people of Fastiv, who host displaced people from towns such as Makariv and Borodianka thanks to an impressive mobilisation of volunteers, also tried to find a way to evacuate the remaining population from these areas during the Russian occupation. This mobilisation of civil society that I saw in the Kyiv region is mirrored in areas like Chernihiv, Kharkiv and other parts of the east.
What can organisations like MSF do about this situation? Nine million people in Ukraine are over 60, and many have been isolated since the war began. We need to pay special attention to them and their caregivers.
We can help with the evacuation of elderly and disabled people who are close to the front lines to suitable accommodation in safer areas of the country. The same accommodation could house people who have experienced trauma in areas such as Bucha. MSF can play an important role working with Ukrainian social services to establish and support these structures and to assist with medical evacuations. We can also support volunteer-run pharmacies to ensure that they have adequate supplies of medicines for chronic illnesses.
MSF is looking to financially and technically support a digital platform proposed by Nezabutni which would allow people with dementia and their families to benefit from teleconsultations and access to information on available help, even in such an uncertain and unstable context.
It is through agility and creativity that an emergency medical organisation like MSF can be most useful in the rapidly changing context of war. Long-term needs are emerging, and we need to be involved. We cannot neglect the most vulnerable people left behind in the conflict.