South Africa: MSF discusses how J&J is price-gouging the country for a life-saving drug
Ahead of this year's UN High-Level Meeting on Tuberculosis (UNHLM-TB), join us for a press briefing where we will shine the light on price-related access challenges to one of the cornerstone medicines for treating drug-resistant TB - bedaquiline.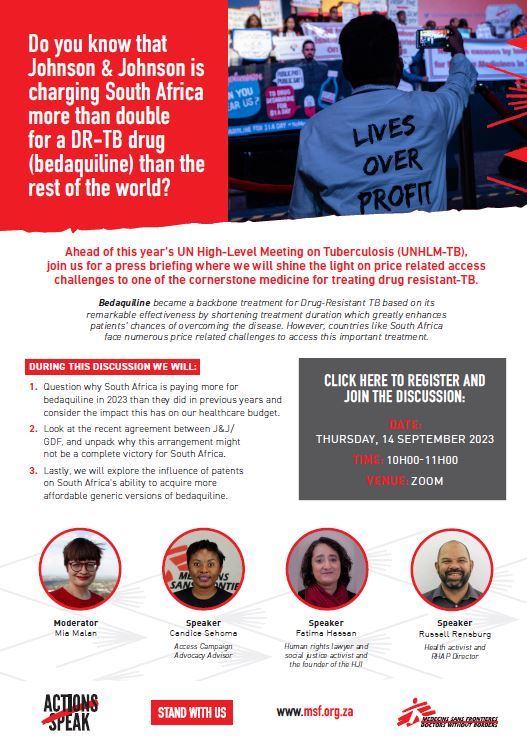 ---
About Doctors Without Borders (MSF)
Doctors Without Borders (MSF) is a global network of principled medical and other professionals who specialise in medical humanitarian work, driven by our common humanity and guided by medical ethics. We strive to bring emergency medical care to people caught in conflicts, crises, and disasters in more than 70 countries worldwide.
In South Africa, the organisation is recognised as one of the pioneers of providing Antiretroviral Treatment (ART) in the public sector and started the first HIV programmes in South Africa in 1999. Until today, the focus of MSF's interventions in the country has been on developing new testing and treatment strategies for HIV/AIDS and TB in Eshowe (Kwa-Zulu Natal) and Khayelitsha (Western Cape).
In Tshwane, we run a migration project, and we offer medical and psychosocial care to migrants, refugees, and asylum seekers who struggle to access public health services under South Africa's increasingly restrictive.
Previously, we offered free, high-quality, confidential medical care to survivors of SGBV in Rustenburg.
To learn more about our work in South Africa, please visit this page on our website (www.msf.org.za). To support MSF's work:
SMS "JOIN" to 42110 to donate R30 Once-off

Visit https://www.msf.org.za/donate
---

Seipati Moloi Communications Specialist, Doctors Without Borders (MSF)