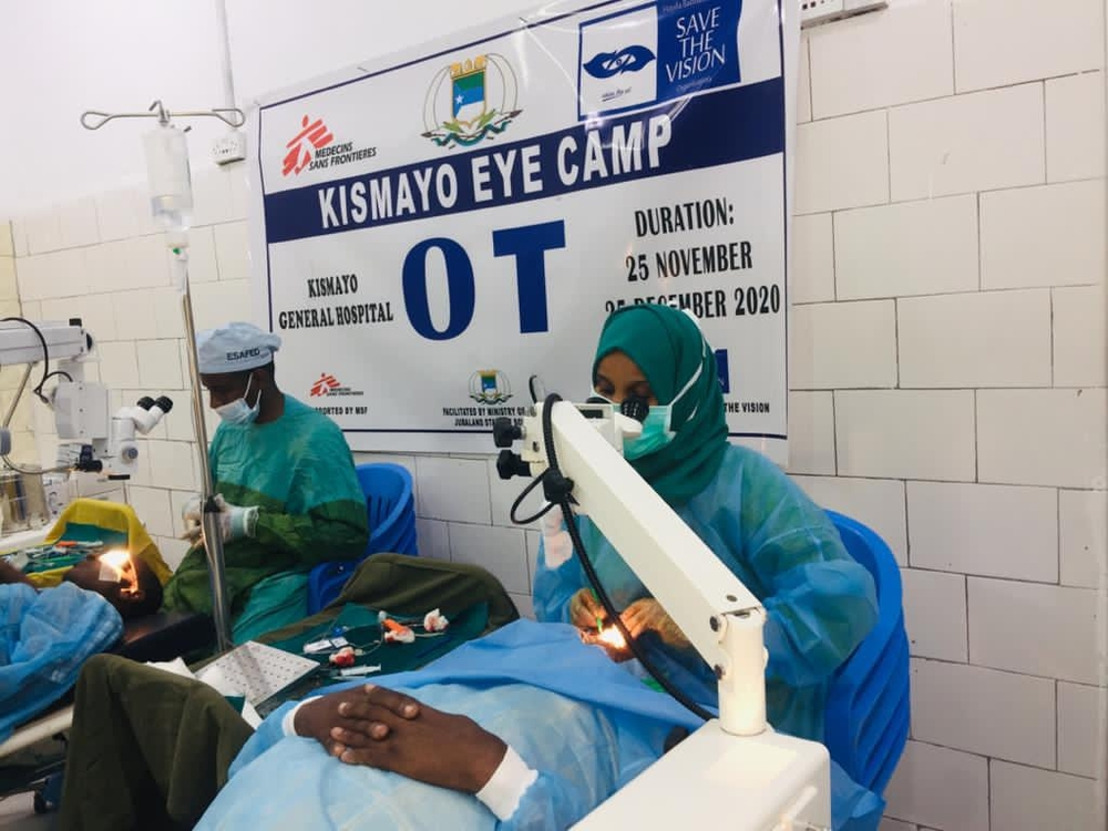 Somalia: 'Eye camps' give people the chance to see again
An estimated 1.2% of Somalia's population – more than 100,000 people – are blind.
Thursday, February 25, 2021 —
Jubaland, Somalia
"It's always rewarding to see people able to see again, sometimes after being blind for many years," says Mohamed Ahmed, MSF project coordinator in Jubaland, southern Somalia. "We make a big change to people's lives with quite a simple service that we bring to their doorsteps for free and that they couldn't otherwise afford. The smiles on people's faces when they see again is very memorable."
MSF has been supporting Jubaland's local Ministry of Health to conduct 'eye camps' for patients in and around the Jubaland since 2019. The eye camps, which are held at local hospitals, offer free eye care services, including screening, surgery, treatment, health education and counselling. Since 2019, the teams of eye specialists have reached thousands of people with eye diseases, in many cases helping them to regain their sight.
Eye problems, like many other health issues in Somalia, often go untreated. Common conditions such as cataracts all too often lead to blindness if left untreated. Losing one's sight – which often leads to losing one's livelihood – can be devastating, especially in a country affected by conflict and poverty. That is why this relatively simple surgery can have a huge impact on patients' lives, improving their chances of living a dignified and healthy life.
In Somalia, health indicators are among the lowest in the world and its overstretched health service prioritises lifesaving care. Specialist eye care services are almost non-existent in some regions of Somalia, and the country's few trained ophthalmologists are mostly based in large cities.
There are no regular eye clinics in the towns of Kismayu, Badaade, Afmadow, Elwak or Baardhere, or in the entire Gedo region of Jubaland. People with eye problems have no choice but to seek treatment hundreds of kilometres away in the capital, Mogadishu. Many people from marginalised and displaced communities simply cannot afford the cost of travelling so far or of paying for treatment when they get there.
Avoidable blindness is a major health problem in Somalia, with cataracts being the top cause of reversible blindness in the country. An estimated 1.2% of Somalia's population – more than 100,000 people – are blind.
The most common cause of blindness is cataracts, which mostly affect women over the age of 50. Cataracts are linked to poverty, high exposure to UV light, exposure to dust, low usage of sunglasses and UV protection, vitamin A deficiency, diabetes and hypertension. The condition can be aggravated by the use of traditional medicines and eye procedures performed by unskilled people.
MSF has provided the technical support and resources to conduct the eye camps. Working with Ministry of Health staff, MSF's team collaborate with the doctors from Save the Vision, a Somalia-based ophthalmic organisation for conducting the eye camps in Kismayo and Baardhere to treat people and to build the capacity of the district's nurses, doctors and clinicians to screen people for eye problems, provide care and refer them for specialist treatment when needed.
"It usually takes a month to complete a single eye camp," says Mohamed. "Community mobilisation is done through local radio stations and TV for a two-week period, alongside the registration and screening of patients. Treatment and surgeries are done within the following two weeks. The procedure to operate on a patient for a cataract usually takes around 30 minutes and we engage three surgeons so that as many as 20-25 patients can be operated on in a single day."
2020 was an exceptionally difficult year in which to provide health services in the more remote parts of Somalia, due to restrictions on the movement of supplies and staff related to the COVID-19 pandemic. But despite the difficulties, MSF managed to continue its eye care services in the Jubaland area. In the two months between 25 November 2020 and 25 January 2021, MSF's team in Jubaland supported two eye camps, in Kismayu and Bardheera, where 604 patients underwent cataract surgery and had their sight restored; 2,430 people received treatment for mild to moderate eye ailments; and 1,306 people received reading glasses to enhance their vision or sunglasses to protect their eyes from harmful UV rays.
To minimise the risks of COVID-19 infection, MSF's team and local healthcare staff adjusted their services and implemented strict infection and prevention control measures. The teams wore masks and face shields and applied social distancing to ensure the safety of both patients and staff.
"Going to Kismayu and Bardheera amidst the COVID-19 pandemic was crucial to assist a very vulnerable group of people," says Mohamed. "They often cannot afford the cost of the transport to a town with eye care services, let alone the price for surgeries. Instead, they came to our eye camps, where the outcome and impact of these surgeries are immediate."
In addition to the eye camps in the Jubaland region, other towns to benefit from these services supported by MSF in recent years include Baidoa, Galkayo, Garbaharey and Las- Anod, Buhoodle and Erigavo in Somaliland.
Seipati Moloi Media Liaison Co-ordinator, Doctors Without Borders (MSF)