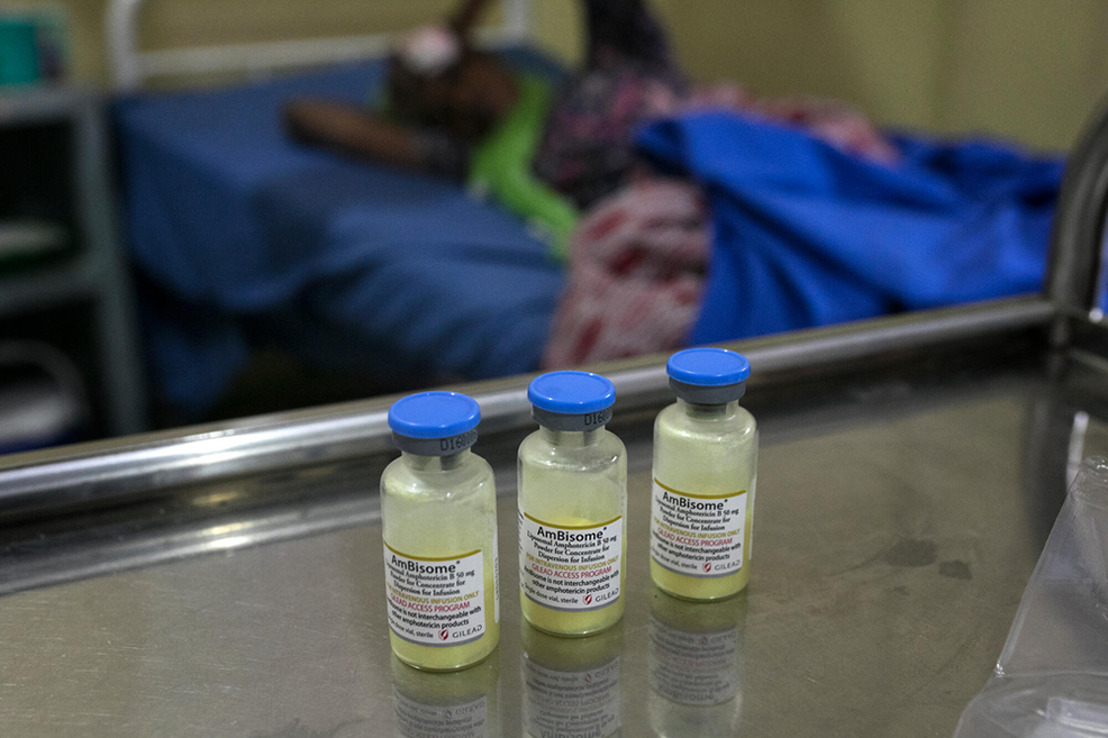 MSF calls on Gilead to finally fulfil access promise and make lifesaving drug for people with HIV available where needed
Gilead hikes price while liposomal amphotericin B (L-AmB) for treatment of HIV-related cryptococcal meningitis remains unavailable and unaffordable in countries where it's most needed
Johannesburg, 05 May 2023 – On 03 May 2023 Gilead Sciences held their annual meeting of stockholders. Ahead of their meeting Doctors Without Borders (MSF) called on the US pharmaceutical corporation to finally fulfil its 2018 promise and ensure that the lifesaving drug L-AmB (marketed as Ambisome) for the treatment of cryptococcal meningitis in people with HIV is immediately available to all the 116 low- and middle-income countries (LMICs) eligible for Gilead's 'access price.' MSF made this call in the wake of Gilead's announcement that it will increase the 'no-profit' access price of L-AmB by 40% from US$16.25 to $23 per vial in 2024, a move that may further impede people's already limited access to this drug in LMICs. Under the recommended treatment protocol, approximately 12 vials of L-AmB are required to treat cryptococcal meningitis, around $267 per person at Gilead's new 'no-profit' access price.
---
"It's really disappointing that, despite Gilead promising over four years ago to provide L-AmB for the treatment of cryptococcal meningitis at the access price of $16.25 per vial, the drug is not available to all eligible countries at this price," said Erin da Costa, HIV/Hepatitis Pharmacist for MSF's Access Campaign. "In addition, Gilead has done little to fulfil its commitment to register L-AmB in countries with a high burden of cryptococcal meningitis. Look, Gilead just boasted a robust 2022 product revenue of $27 billion, so the corporation seems to have the means to follow through on its access promises: it is time for Gilead to prioritise broad access to affordable L-AmB across low- and middle-income countries."
Cryptococcal meningitis is an opportunistic fungal infection that is the number two killer of people living with HIV/AIDS after tuberculosis. In April 2022, the World Health Organization (WHO) updated its guidelines to endorse a simplified treatment regimen which, following the results of the AMBITION trial, consists of a single high dose of L-AmB, combined with two weeks of flucytosine and fluconazole, as the preferred treatment option. Access to this lifesaving treatment is necessary to save lives, and with new WHO global targets to reduce deaths from cryptococcal meningitis by 50% in 2025 and 90% by 2030, demand for L-AmB is likely to increase. Gilead, as the main supplier of quality-assured L-AmB, should publicly share information about which countries within their access programme have been and are able to access L-AmB at the 'no-profit' price, to help ensure that WHO-endorsed global health priorities can be achieved.India, for example, is eligible for Gilead's access programme, but more than four years later, the access price for L-AmB is still not guaranteed from Gilead's distributors.
"Every year we must endeavour to procure L-AmB at the publicly agreed access price to treat HIV-positive people with cryptococcal meningitis in our care," said Dr Swapan Kachop, Head of Mission for MSF in India. "Until this lifesaving drug is available across all eligible HIV programmes at Gilead's access price, I will remain very concerned about access to L-AmB for HIV-positive people with advanced disease outside of MSF's care as, in the private sector in India, this drug is three to four times the access price."
The first generic formulation of L-AmB was approved by the US Food and Drug Administration (FDA) in December 2021, but there is still no quality-assured generic manufacturer supplying in LMIC markets. Generic manufacturers Sun Pharmaceuticals and Eugia Pharma (a subsidiary of Aurobindo Pharma) must take urgent steps to start producing for LMIC markets to improve access to L-AmB.
Note to the Editor:
MSF report, "Liposomal amphotericin B: Solving the access puzzle," provides a deeper analysis of the access barriers to liposomal amphotericin B (L-AmB).
---
---
***REQUEST***
Kindly consider backlinking articles you publish online about MSF to our website: www.msf.org.za
Backlinks are basically votes from other websites. Each of these votes tells search engines: "This content is valuable, credible and useful". When you add trustworthy and relevant website links to your content, it improves the credibility of your website. In addition, valuable external links provide your readers with references, which will enhance your website's authority.
---

Mologadi Matlala Media & Communications Intern, Doctors Without Borders (MSF) Southern Africa
About Doctors Without Borders (MSF)
Doctors Without Borders (MSF) is a global network of principled medical and other professionals who specialise in medical humanitarian work, driven by our common humanity and guided by medical ethics. We strive to bring emergency medical care to people caught in conflicts, crises, and disasters in more than 70 countries worldwide.
In South Africa the organisation is recognised as one of the pioneers of providing Antiretroviral Treatment (ART) in the public sector and started first HIV programmes in South Africa in 1999. Up until today, the focus of MSF's interventions in the country has primarily been focused on developing new testing and treatment strategies for HIV/AIDS and TB in Eshowe (Kwa-Zulu Natal) and Khayelitsha (Western Cape).
In Tshwane, we run a migration project, and we offer medical and psychosocial care to migrants, refugees, and asylum seekers, who struggle to access public health services under South Africa's increasingly restrictive.
Previously we offered free, high-quality, confidential medical care to survivors of SGBV in Rustenburg.
To find out more about our work in South Africa, please visit this page on our website. To support MSF's work:
SMS "JOIN" to 42110 to donate R30 Once-off

Visit https://www.msf.org.za/donate